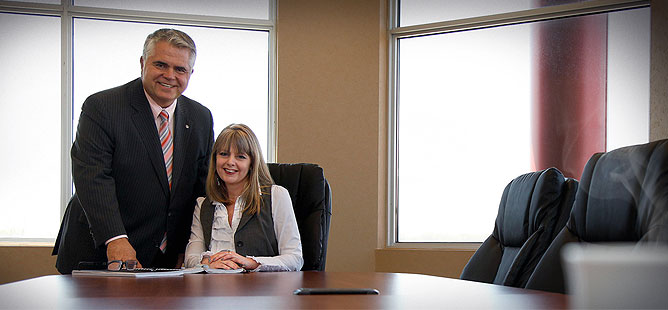 Peter Hrastovec has been described as energetic and ebullient by one of Windsor's community leaders.
Peter Hrastovec grew up in Windsor, Ontario. His undergraduate degree at the University of Windsor is in Honours English Language and Literature where he was present on the President's Role of Scholars each year. At the University of Windsor's Law School, he received many awards as a member of the outstanding class of 1982.
Within four years of being called to the bar Peter Hrastovec joined Paroian, Raphael, Courey, Cohen & Houston law firm, later known as Raphael Partners LLP where he rose to the position of Managing Partner in the Windsor office. In 2008, Peter continued his law practice working as a sole practitioner in association with his Windsor colleagues. In 2014, Peter joined Shibley Righton LLP as partner at the firm.
While Peter has had a broad spectrum of legal clientele he does focus on employment & labour law and commercial litigation. In many cases he prefers to resolve conflict before it reaches the courtroom. To improve his skills in this area Peter has successfully completed Harvard University's Mediation Workshop.
Peter Hrastovec remains actively involved in his profession, through his professional memberships including the Law Society of Upper Canada, the Canadian Bar Association, the Essex Law Association and the Advocates' Society. As a guest lecturer, Peter has returned to the University of Windsor on a regular basis, both as an instructor on law and as a lecturer on ethics and practice.
As you might expect from an English literature and Law graduate, Peter is a prolific writer. He is a frequent contributor to Caveat and other publications. Peter also has lectured on behalf of the Law Society of Upper Canada, Osgoode Hall Law School (York University) and other legal institutions. In September 2009, Peter was honoured by the Law Society of Upper Canada when he received the Law Society Medal for his contributions to community and legal practice.
In a community that highly values public service he is seen as a leader. Peter Hrastovec has reached the congruity of balance in his life between family – career – community. A proud, first-generation Canadian, Peter is fluent in both English and Croatian. He and his wife Denise have three children. His community support includes past president of the Windsor Symphony Society, a Past President of the Rotary Club of Windsor (1918) and a past Honorary Co-Chair of the local United Way Campaign. He is a past Chair of the Windsor-Essex Regional Chamber of Commerce and 2014 Winner of Professional of the Year Award from the Windsor-Essex Chamber of Commerce. Peter and his wife Denise were recognized by the Jewish Nation Fund as recipients of the Negev Award in 2013. Despite his busy professional and community commitments, Peter is happy to occasionally coach soccer ...and to perform in community theatre